Daihatsu Terios 2006–2015 Body Repair Manual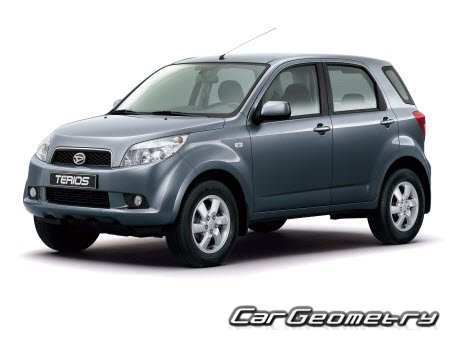 The factory manual provides the body dimensions for the Daihatsu Terios 2006–2015, including descriptions of replacement procedures for various body components and the body dimensions and control points for the Daihatsu Terios' body geometry.
The Daihatsu Terios body repair manual covers essential knowledge required for servicing Daihatsu vehicles' bodies and their basic operations. It provides detailed instructions for replacing major sheet panels of the J200 series, including welding methods and seal application points. It is recommended that body repair technicians familiarize themselves with accurate procedures using this body repair manual to carry out rationalized, efficient repairs and reliable body servicing operations.
The information included in the manual consists of body dimensions, control points, sectional images of body elements, applicable materials, recommendations for welding types, methods, and materials, locations and materials for applying seals, sound insulation, and anti-corrosion sealants, areas and directions for cutting body elements for subsequent installation of new parts, interior material types, and decoding of markings.
The Daihatsu Terios 2006–2015 Collision Repair Manual is available in English and contains a wealth of useful and necessary information for individuals involved in self-performed body repairs and for owners of body repair companies working on Daihatsu Terios vehicles.
Data sample from the archive
Download Factory manual for body repair and body dimensions
Daihatsu Terios 2006–2015
Price: $35