Mitsubishi eK-Wagon 2013–2018 (RH Japanese market) Body Repair Manual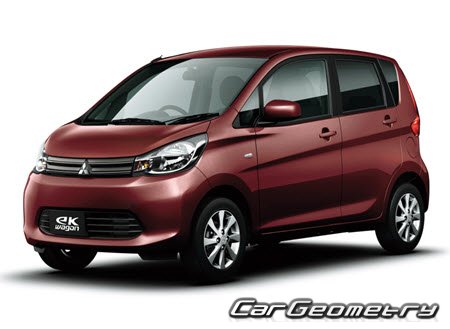 The factory manual includes body dimensions for the Mitsubishi eK-Wagon (B11W) 2013-2018. It provides descriptions for element replacement, body dimensions, and control point specifications for the body geometry of the Mitsubishi eK-Wagon with right-hand drive for the Japanese market.
The information includes geometric body dimensions for the Mitsubishi eK-Wagon B11W, control point specifications, sectional images of body elements, materials used, recommendations for applicable types, methods, materials, and welding locations. It also covers areas and materials for applying seam sealants, sound insulation, and anti-corrosion mastics, as well as cutting sections and directions for subsequent installation of new body elements. Additionally, it provides information on interior materials, their designations, and decoding.
The Mitsubishi eK-Wagon (B11W) 2013-2018 BodyShop Manual, written in Japanese, comprises 86 pages of exceptionally useful and necessary information for technicians who need to verify the body geometry after accidents and wish to perform body restoration for the Mitsubishi eK-Wagon according to the manufacturer's recommendations.
Data sample from the archive
Download Factory manual for body repair and body dimensions
Mitsubishi eK-Wagon (B11W) 2013-2018
Price: $40