Mitsubishi Pajero II 1991–1999 Body Repair Manual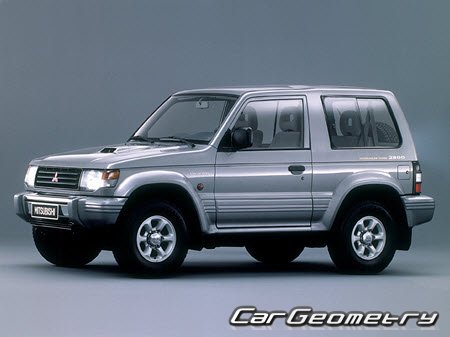 The official body repair manual provides detailed body dimensions for the Mitsubishi Pajero II 1991-1999, offering a comprehensive guide for bodywork, repairing and replacing various body parts. It encompasses precise descriptions of body dimensions and control points specific to the Mitsubishi Pajero with both 3-door and 5-door body types. The manual can also be used for the body restoration of Mitsubishi Shogun vehicles.
One of the essential features of the manual is its focus on body dimensions and control points. It provides precise measurements for key body components, allowing technicians to assess and restore the vehicle's geometry accurately. The control points serve as reference points for evaluating the alignment and structural integrity of the vehicle's body, ensuring that repairs are carried out to the highest standards.
The information includes geometric body dimensions of the Mitsubishi Pajero II 1991-1999, control points, sectional views of body components, recommended welding types, methods, materials, and locations; locations and materials for applying seam sealants, soundproofing materials, and anti-corrosion coatings; cutting locations and directions for removing body components for subsequent installation of new ones; types of interior materials, designations, and decoding.
The Body Repair Manual for the Mitsubishi Pajero II 1991-1999 is an English-language document. This collection contains a wealth of exceptionally useful and necessary information for those involved in self-body repairs and for owners of body repair businesses working on second-generation Mitsubishi Pajero vehicles.
Data sample from the archive
Download Factory manual for body repair and body dimensions
Mitsubishi Pajero II 1991–1999
Price: $20