Nissan Pixo (UA0) 2009-2015 Body Repair Manual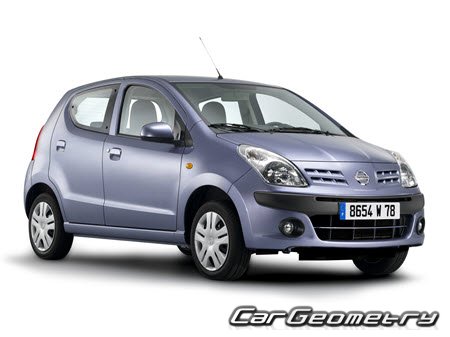 The factory body repair manual provides frame dimensions for the Nissan Pixo (UA0) manufactured between 2009 and 2015. It also includes detailed descriptions of body parts replacement, body dimensions, and control points for the Nissan Pixo.
The manual contains comprehensive information on the body geometric dimensions, control points, images of body elements, materials used, recommendations for welding points including applicable types, methods, and materials. It also provides guidance on the application of seam, soundproof, and anti-corrosion sealants, as well as pre-cutting points and directions for body parts installation. The manual covers interior materials, their types, definitions, and decoding.
The Nissan Pixo (UA0) 2009-2015 Body Repair Manual is available in English and consists of 84 pages. It is an invaluable resource for body shop professionals and owners of body repair companies involved in Nissan Pixo body repairs.
Data sample from the archive
Download Factory manual for body repair and body dimensions
Nissan Pixo (UA0) 2009-2015
Price: $25