Nissan Kicks (P15) 2018-2023 Body Repair Manual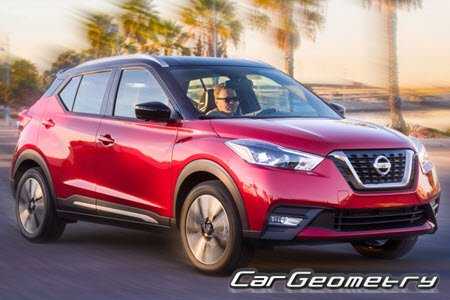 The Body Repair Manual for Nissan Kicks (P15) 2018-2023 provides detailed information and instructions for repairing and restoring the body of the vehicle. It includes comprehensive body dimensions, control points, and geometric specifications specific to the Nissan Kicks (P15) model from 2018 to 2023.
The Nissan Kicks measures 4295 mm in length, and its height exceeds one and a half thousand millimeters. The width of this new model is 1760 mm. Interestingly, the original "Kicks" previously had the name of an alternative version of the "Juke" model from the same manufacturer. When comparing the two models based on their specifications, the conceptual innovation from the Nissan brand certainly takes the lead in terms of wheelbase and length. However, overall, these models are quite comparable to each other.
This manual is a valuable resource for body repair technicians and owners involved in the repair process. It covers a wide range of topics, including the replacement of various body components, recommended welding methods and materials, application of sealants and corrosion protection, and cutting procedures for the installation of new body parts.
By following the guidance and measurements provided in this manual, technicians can ensure accurate repairs, maintain the vehicle's structural integrity, and restore the Nissan Kicks (P15) to its original condition.
Data sample from the archive
Download Factory manual for body repair and body dimensions
Nissan Kicks (P15) 2018-2023
Price: $30