Nissan Juke (YF15) 2010-2017 Body Repair Manual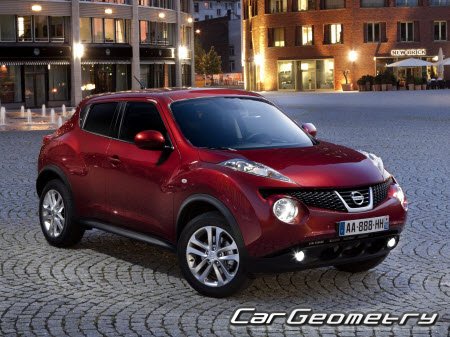 The factory manual contains body dimensions for the Nissan Juke 2010-2017 Body Repair Manual, including a description of the replacement of various body elements for the YF15 model and body dimensions, as well as control points for the body geometry of the first-generation Nissan Murano. The Nissan Juke is a mini-crossover produced by the Japanese company Nissan. The model is based on the "Nissan Qazana" concept, which was unveiled at the Geneva Motor Show in 2009. The global premiere of the production version took place a year later in March 2010, and in Russia, the car was first showcased in August 2010 at the Moscow International Automobile Salon.
The information provided includes the geometric body dimensions for the Nissan Juke (YF15) from 2010, control points, sectional images of body elements, materials used, recommendations for applicable types, methods, materials, and welding locations. It also covers the locations and materials for applying seam sealers, sound-insulating and anti-corrosion mastics, as well as cutting directions for body elements for subsequent installation of new ones. Interior materials types, designations, and decoding are also included.
The new Nissan Juke represents a conceptual solution for vehicles in its class. Its distinctive and incomparable design, along with its beloved performance characteristics, have naturally contributed to its incredible popularity and excellent sales. Japanese developers have successfully incorporated ideas of quality and reliability into this compact model.
The Nissan Juke (F15) 2010-2017 Body Repair Manual is an extensive collection of invaluable and essential information for those engaged in independent body repairs and owners of auto body repair companies specializing in first-generation Nissan Juke vehicles.
Data sample from the archive
Download Factory manual for body repair and body dimensions
Nissan Juke (YF15) 2010-2017
Price: $25