Nissan Micra K12 2003-2010 Body Repair Manual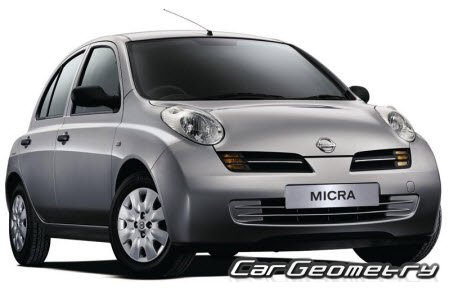 The factory repair manual for the Nissan Micra 2003-2010 includes descriptions for replacing various body components (K12) and provides body dimensions and control points for the geometry of the updated third-generation Micra. The manual can also be used for restoring the body of right-hand-drive Nissan March K12 vehicles.
The Micra K12 was unveiled at the 2002 Paris Motor Show as the Nissan mm Concept and was introduced to the Japanese market in early 2002, followed by its release in Europe later that year. The car underwent a radical redesign, featuring a longer wheelbase developed in collaboration with Renault, a curvier exterior that was taller and slightly wider, and prominent headlamps that extended to the wing-tops. Additional features included a sliding rear seat and the option of keyless ignition on higher specification models. The engine range included improved 1.2L (CR12DE) and 1.4L (CR14DE) petrol models, as well as a Renault-sourced 1.5L diesel unit (K9K). The previous model's automatic CVT transmission was replaced with a conventional automatic transmission.
The provided information includes geometric body dimensions, control points, sectional images of body elements, materials used, recommendations for applicable types, methods, and welding materials and locations. It also covers the locations and materials for applying seam sealants, soundproofing, and anticorrosion mastics. Furthermore, it provides guidance on the locations and cutting directions of body elements for subsequent installation of new ones, as well as interior material types, designations, and decoding.
In late 2007, the Nissan Micra underwent another facelift. The cosmetic tweaks included the standard racing grille from the K12 160 SR on every model, tidied-up front headlights with light blue-tinted sidelights, and chrome-edged grilles housing the indicators. The B-pillar trims were no longer color-coded. Inside, new seat fabric designs were introduced, and the dashboard featured parts taken from other Nissan models. New equipment included an audible speed warning, Bluetooth connectivity with the vehicle, and reversing sensors. Sport bumpers and side and rear spoilers were fitted to all models except the entry-level variant.
The Body Repair Manual for the restyled Nissan Micra K12 2003-2010, available in English, contains a vast amount of exceptionally useful and necessary information for individuals engaged in self-body repair and for owners of body repair businesses dealing with the third-generation Nissan Micra series.
Data sample from the archive
Download Factory manual for body repair and body dimensions
Nissan Micra K12 2003-2010
Price: $20