Nissan Maxima QX (A32) 1994–2000 Body Repair Manual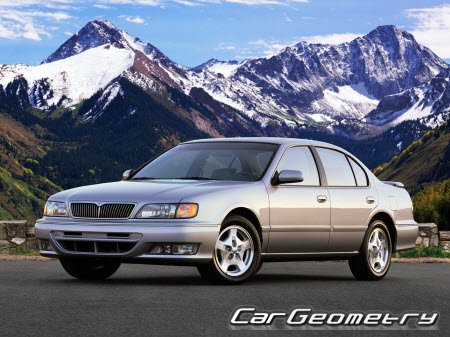 The factory repair manual contains body dimensions for Nissan Maxima QX 1994-2000 (A32) Body Repair Manual, including descriptions of various body component replacements, body dimensions, and control points of the A32 body. The manual can also be used for restoring the body of right-hand drive Nissan Cefiro A32 (Japanese market)vehicles.
The Nissan Cefiro A32 differed significantly from its predecessor, the Cefiro A31. The A32 model was larger in size, featured a higher-quality and more comfortable interior, and abandoned rear-wheel drive in favor of front-wheel drive. Initially, the Cefiro was designed for the Japanese market, but a large number of right-hand drive vehicles were imported to Russia through the "grey import" process. For Western countries, a left-hand drive equivalent of the Cefiro was produced under the name Nissan Maxima.
The information includes body dimensions, control points, cross-sectional images of body components, materials used, recommendations for applicable types, methods, and materials for welding, locations and materials for applying seam sealants, sound insulation, and anti-corrosion mastics, as well as locations and directions for cutting body components for subsequent installation of new parts. The manual also covers interior materials, their designations, and decoding.
The
Nissan Maxima QX (Nissan Cefiro) 1994-2000 Body Repair Manual
is available in English. This comprehensive guide contains a wealth of extremely useful and necessary information for those who are involved in independent body repairs and for owners of body repair shops working on Nissan Maxima A32 vehicles.
Data sample from the archive
Download Factory manual for body repair and body dimensions
Nissan Maxima QX (A32) 1994–2000
Price: $20