Nissan Maxima (A34) USA 2004–2008 Body Repair Manual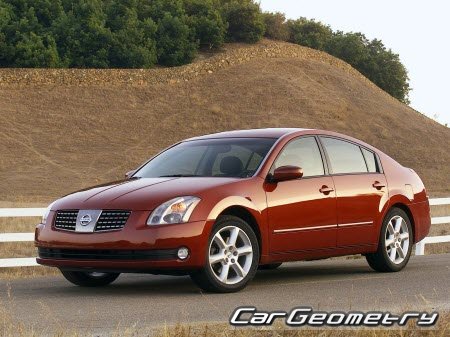 The factory repair manual contains body control dimensions for Nissan Maxima USA 2004-2008 (A34) Body Repair Manual, including descriptions of various body component replacements, body dimensions, and control points of the sixth-generation Nissan Maxima. The debut of the Nissan Maxima A34 took place at the Detroit Auto Show in 2004, and from that moment onwards, the Nissan Maxima was officially sold only in the North American market.
The sixth-generation Nissan Maxima features an interesting and elegant, yet somewhat muscular exterior design. The model was available in two trims: SE and SL. The Nissan Maxima A34 came with a rich set of technical features, including climate control, cruise control, a navigation system, and a Bose audio system.
The information includes body control dimensions for Nissan Maxima 2004-2008, control points, cross-sectional images of body components, materials used, recommendations for applicable types, methods, and materials for welding, locations and materials for applying seam sealants, sound insulation, and anti-corrosion mastics, as well as locations and directions for cutting body components for subsequent installation of new parts. The manual also covers interior materials, their designations, and decoding.
The
Nissan Maxima (A34) USA 2004-2008 Body Repair Manual
is available in English. This comprehensive guide contains a wealth of extremely useful and necessary information for those who are involved in independent body repairs and for owners of body repair shops working on Nissan Maxima vehicles of the sixth generation.
Data sample from the archive
Download Factory manual for body repair and body dimensions
Nissan Maxima (A34) USA 2004–2008
Price: $20