Nissan Leaf (ZE1) 2017-2024 Body Repair Manual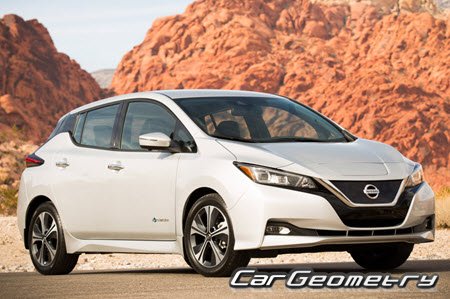 The Factory Repair Manual includes body dimensions for the Nissan Leaf (ZE1) 2017-2024 and provides a comprehensive description of replacing various body components, body dimensions, and control points for the geometry of the Nissan Leaf electric vehicle.
The Nissan Leaf (ZE1) offers improvements and advancements over its predecessor, including increased driving range, enhanced technology features, and improved overall performance. It represents Nissan's commitment to electric mobility and sustainable transportation.
The Body Repair Manual for the Nissan Leaf (ZE1) 2017-2024 provides detailed information on the geometric body dimensions, control points, images of body sectioning, materials used, recommended types, methods, and welding materials for repairs. It also covers the application of seam sealants, sound insulation materials, and anti-corrosion mastics. The manual includes guidance on cutting and sectioning procedures for body elements and provides information on the types of interior materials, their designations, and decoding.
The Nissan Leaf (ZE1) 2017-2024 Body Repair Manual is available in English and contains valuable and essential information for individuals involved in DIY body repairs and for body repair businesses working on Nissan Leaf electric vehicles of this generation. It serves as a comprehensive resource for accurate and efficient body repairs, ensuring the vehicle's structural integrity and maintaining its safety standards.
Data sample from the archive
Download Factory manual for body repair and body dimensions
Nissan Leaf (ZE1) 2017-2024 Body Repair Manual
Price: $30