Nissan Leaf (ZE0) 2011-2016 Body Repair Manual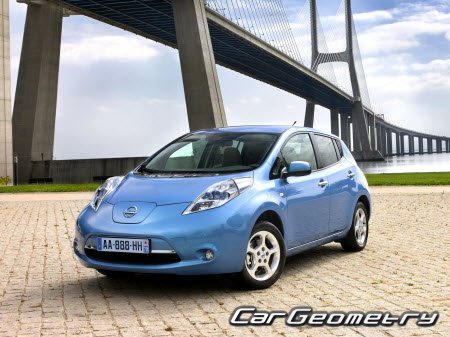 The Factory Repair Manual includes body dimensions for the Nissan Leaf 2011-2016 (ZE0) and provides a comprehensive description of replacing various body components, body dimensions, and control points for the geometry of the Nissan Leaf electric vehicle.
The Nissan Leaf is an electric vehicle manufactured by the Japanese automaker Nissan, with production starting in the spring of 2010. The global debut took place at the Tokyo Motor Show in 2009. Orders for the model began on April 1, 2010, with Japanese and American dealers accepting orders. The assembly of the first production units began in Japan (Oppama) and later, starting in 2012, Nissan expanded Leaf production to the United States (Smyrna, Tennessee) and, from March 2013, to the United Kingdom (Sunderland).
The information provided in the Nissan Leaf (ZE0) 2011-2016 Body Repair Manual includes geometric body dimensions, control points, images of body sectioning, materials used, recommendations for applicable types, methods, welding materials, and locations. It also covers the application of seam sealants, sound insulation materials, and anti-corrosion mastics, as well as cutting and sectioning procedures for body elements for the installation of new parts. The manual also includes details about interior materials, their types, designations, and decoding.
The Nissan Leaf (ZE0) 2011-2016 Body Repair Manual is available in English and contains a wealth of essential and necessary information for those involved in DIY body repairs and for body repair businesses working on Nissan Leaf electric vehicles.
Data sample from the archive
Download Factory manual for body repair and body dimensions
Nissan Leaf (ZE0) 2011-2016
Price: $25