Nissan Fuga (Y51) 2010-2017 (RH Japanese market) Body dimensions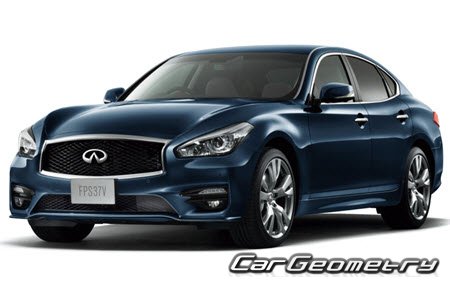 Body dimensions are essential for restoring the body geometry of Nissan Fuga (KNY51 KY51 Y51) vehicles manufactured between 2010 and 2017. These measurements are used to verify the body's geometry and subsequently carry out the necessary repairs to damaged components of right-hand drive Nissan Fuga vehicles intended for the Japanese market.
This information is derived from stand-based references and factory documentation specific to Nissan Fuga (Y51) 2010-2017 Body dimensions. It includes stand dimensions for the body and control point specifications required for aligning and restoring the precise geometry of Nissan Fuga vehicles with right-hand drive configuration.
Please note that the information is in Japanese language and is primarily intended for professionals and individuals involved in repairing and maintaining Nissan Fuga vehicles for the Japanese market.
Data sample from the archive
Download vehicle dimensions
Price: $40