Subaru XV 2012-2018 (XV, XV Crosstrek, XV Crosstrek Hybrid) Body Repair Manual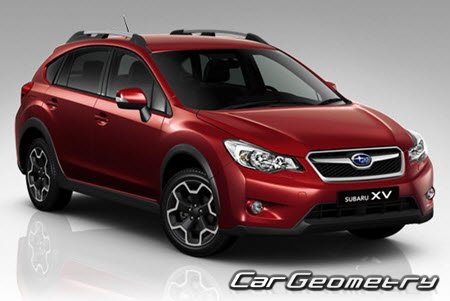 The Subaru XV, also known as the XV Crosstrek and XV Crosstrek Hybrid, is a compact crossover SUV that was produced from 2012 to 2018. The Body Repair Manual for Subaru XV (XV, XV Crosstrek, XV Crosstrek Hybrid) 2012-2018 provides comprehensive information for repairing and restoring the body of these vehicles.
The manual includes detailed descriptions of replacement procedures for various body components. It provides step-by-step instructions and illustrations to guide technicians through the repair process.
In addition, the Body Repair Manual covers body dimensions, control points, and alignment specifications to ensure the proper geometry and alignment of the vehicle's body structure. This information is crucial for achieving precise and accurate repairs.
The manual also provides information on recommended welding methods, materials, and locations, as well as guidelines for applying seam sealer, soundproofing materials, and anti-corrosion coatings. It may also include details about interior materials, their types, and decoding information.
With the Body Repair Manual for Subaru XV 2012-2018, body repair technicians and individuals involved in the repair and restoration of these vehicles have access to valuable information and guidelines to ensure proper repairs and maintain the structural integrity of the Subaru XV models.
Data sample from the archive
Download Factory manual for body repair and body dimensions
Subaru XV (XV, XV Crosstrek, XV Crosstrek Hybrid) 2012-2018
Price: $30