Subaru Levorg 2014–2020 & Subaru WRX S4 2014–2020 Body Repair Manual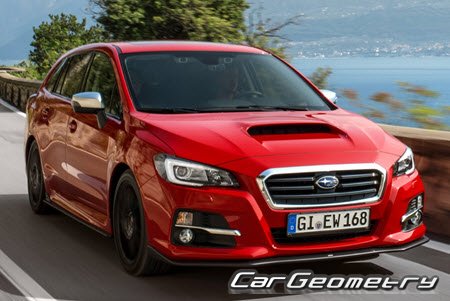 The factory manual includes body dimensions for the Subaru WRX S4 2014–2020 and Subaru Levorg 2014–2020, providing details on component replacement, body dimensions, and control points for the Subaru Levorg Wagon and Subaru WRX for both left-hand drive and right-hand drive configurations for the European and Asian market.
The manual covers various aspects of body repair, including both exterior and interior components. It provides comprehensive guidance on panel replacement, dent repair, welding techniques, and alignment procedures. Technicians can refer to the manual to understand the proper repair methods and sequences, ensuring that repairs are performed correctly and efficiently.
The information in the manual covers the geometric dimensions of the Subaru WRX 2014–2020, including control points, cross-sectional images of body components, recommended types, methods, and materials for welding, locations and materials for applying sealants, sound insulation, and anti-corrosion mastics, as well as areas and directions for cutting components for subsequent installation of new ones. The manual also includes details about interior materials, their designation, and decoding.
One of the key features of the manual is its coverage of body dimensions and control points. These dimensions provide precise measurements of the vehicle's body components, allowing technicians to accurately assess any deviations from the original specifications. The control points serve as reference points for checking the alignment and geometry of the vehicle's body, ensuring that repairs are carried out with precision.
The Subaru Levorg 2014–2020 BodyShop Manual is an English-language manual consisting of 325 pages of extremely useful and necessary information for technicians who are checking the body geometry after a collision and intend to carry out body repairs on the Subaru WRX and Subaru Levorg Wagon in accordance with the manufacturer's recommendations.
Data sample from the archive
Download Factory manual for body repair and body dimensions
Subaru Levorg 2014–2020 & Subaru WRX S4 2014–2020
Price: $35