Nissan Murano (Z51) 2008–2014 Body Repair Manual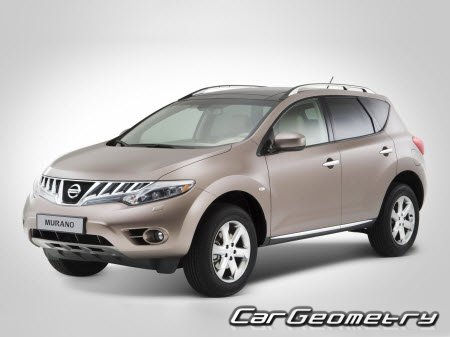 The factory manual includes body dimensions for the Nissan Murano 2008-2014 Body Repair Manual, providing descriptions for replacing various body components of the Z51 model and body dimensions. It also includes control points for the body geometry of the second-generation Nissan Murano. The second-generation Murano utilizes the Nissan D platform, which is also used for the second-generation Nissan Teana.
For the 2011 model year, the Murano underwent a refresh that introduced new front and rear fascias, headlights, LED taillights, and 18-inch wheels. Interior changes included a new white meter color, matching center stack plastic colors with leather trim, and added equipment across various trim levels. The refresh also introduced a new exterior color called "Graphite Blue." Additionally, a convertible version called the CrossCabriolet was added for the 2011 model year and debuted at the 2010 Los Angeles International Auto Show.
The information provided includes body dimensions for the Nissan Murano (Z51) 2008-2014, control points, sectional images of body elements, recommended welding types, methods, and materials, locations and materials for applying seam sealers, sound insulation, and anticorrosion sealants, as well as directions for cutting body components for subsequent installation of new ones. The manual also covers interior materials, their types, designations, and decoding.
It is worth noting that the updated crossover does not share any common body parts with the first-generation model. Thanks to this distinctive, solid, and assembled body design, the SUV continues to enjoy popularity, with its target audience expanding to include a well-off and sophisticated portion of the population. The muscular sides and slanted headlights visually enhance the new Murano's size. The dynamic and sleek appearance is complemented by more sharply defined wheel arches and new alloy wheels. The vertical rear lights have been replaced with horizontal ones.
The "Nissan Murano (Z51) 2008-2014 Body Repair Manual" is a comprehensive guide written in English. It contains a wealth of valuable and essential information for those involved in DIY body repairs and owners of auto body repair businesses specifically for the second-generation Nissan Murano.
Data sample from the archive
Download Factory manual for body repair and body dimensions

Price: $25