Nissan Almera (N15) 1995–2000 Body Repair Manual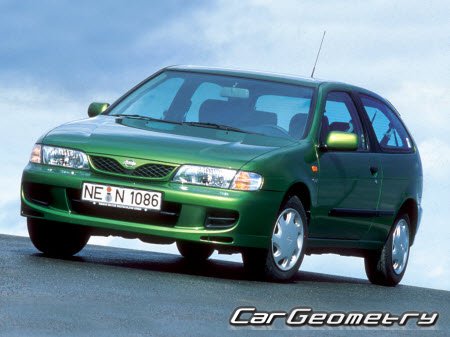 The factory manual provides the body dimensions for the Nissan Almera (N15) 1995-2000 Body Repair Manual, including descriptions for replacing various body components of the sedan, 3-door, and 5-door hatchback models. It also includes body dimensions and reference points for maintaining the body geometry of the first-generation Nissan Almera.
The first generation of the Nissan Almera was introduced in late 1995 as a replacement for the Nissan Sunny, which had been in production for nearly 30 years. The Almera was nearly identical to the N15 Nissan Pulsar sold in Japan, with the exception of trim options and choice of petrol engines.
During the second phase from 1998 to 2000, the front bumpers were modified, front splitters were added to the Si/SRi and GTi models, and the GTi models came with a full body kit by default (although it was also available as an optional choice). Additionally, all rear spoilers now featured integrated brake lights. The original telescopic radio antenna was relocated from the front driver's pillar to the rear roof and replaced with a "bee-sting" antenna. On the GTi models, the headlights and front indicators were equipped with black surrounds.
The information provided in the manual includes body dimensions, reference points, cross-sectional images of body elements, recommended welding types, methods, materials, and locations, as well as instructions for applying seam sealers, sound insulation, and anti-corrosion materials. It also covers cutting locations and directions for replacing body components, interior materials, and their designations and decoding.
The Nissan Almera (N15) 1995-2000 Body Repair Manual is a comprehensive guide written in English. It contains a wealth of valuable and essential information for individuals performing DIY body repairs and for owners of body repair shops specializing in the first-generation Nissan Almera.
Data sample from the archive
Download Factory manual for body repair and body dimensions
Nissan Almera (N15) 1995–2000
Price: $20