Nissan Almera (N16) 2000–2006 Body Repair Manual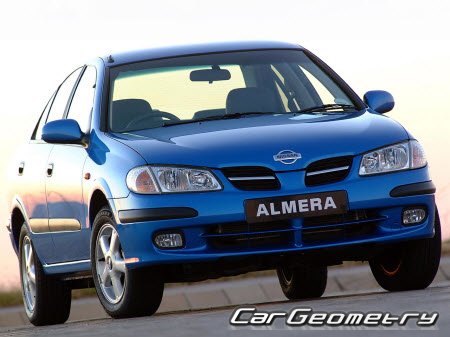 The factory manual contains the body control dimensions for the Nissan Almera 2000-2006 Body Repair Manual (N16), including descriptions for replacing various body components of the N16 model and body control dimensions and reference points for maintaining the body geometry of the second-generation Nissan Almera. The Almera was produced in three body styles: three-door and five-door hatchbacks, as well as a sedan. The vehicles of this generation were equipped with Nissan QG petrol engines with a displacement of 1.5 and 1.8 liters, direct injection YD22DDT turbocharged diesel engines with a displacement of 2.2 liters, and regular YD22DDTi turbocharged diesel engines.
The provided information in the manual includes body control dimensions, reference points, cross-sectional images of body elements, recommended welding types, methods, materials, and locations. It also provides instructions for applying seam sealers, sound insulation, and anti-corrosion materials. Additionally, it covers cutting locations and directions for replacing body components, as well as information on interior materials, their designations, and decoding.
In 2003, the Almera received a facelift with updated styling, retuned suspension, new engines, and an updated interior. The MacPherson strut front suspension and multi-link rear suspension of the Almera were retuned, resulting in a quieter ride, improved stability when heavily loaded, enhanced driving dynamics, and better control during emergency maneuvers. The new suspension tuning also significantly reduced body roll during tight turns.
The Nissan Almera (N16) 2000-2006 Body Repair Manual is a comprehensive guide written in English. It contains a wealth of valuable and essential information for individuals performing DIY body repairs and for owners of body repair shops specializing in the second-generation Nissan Almera.
Data sample from the archive
Download Factory manual for body repair and body dimensions
Nissan Almera (N16) 2000–2006
Price: $20