Nissan Note (E11) 2005–2012 Body Repair Manual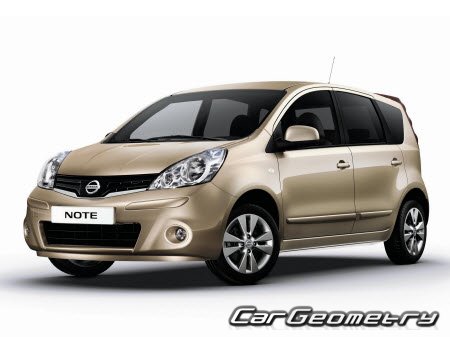 The factory manual contains body control dimensions for the Nissan Note 2005–2012 in the Body Repair Manual. It includes descriptions of replacing various body components (E11), body dimensions, and control points for the first-generation Nissan Note. In late 2008, the model underwent a facelift, with differences from the previous model including new front headlights and radiator grille, and body-colored bumpers.
The Nissan Note is a spacious five-door hatchback that combines innovative style and practicality with a sporty character. It is designed for drivers who need a car that meets the demands of busy everyday life while still providing a pleasurable driving experience.
This manual offers valuable insights into the body dimensions, control points, cross-sections of body elements, recommended welding methods and materials, as well as interior material types and their identification.
For those engaged in independent body repairs or running body repair businesses, the Nissan Note (E11) 2005-2012 Body Repair Manual in English provides essential and comprehensive information to facilitate the process.
Data sample from the archive
Download Factory manual for body repair and body dimensions
Nissan Note (E11) 2005–2012
Price: $20